DAY FOUR
Process To Performance
---
Creator's Note:
Welcome! This is day four of a 5-day series going behind-the-scenes of creating "Oh My Sweet", an original music track and animated film. If you're joining us after March 22nd, you can review the days you missed here. Each day I'll highlight a different part of the process – the joys, triumphs, challenges and heartbreak. This series is curated by me (Casey Lipka) with animation secrets by Joanne Davis today!
Each day will include pictures, video snippets or text as part of an in-depth view of the process. This series is 5 days long. You can expect one email each morning.
Remember that art isn't created in a vacuum. Art thrives with community, support and time. Let this be the start to your ongoing celebration of artists and the care that goes into creating a piece of art.
---
Day 4: Beacon of Light
We left off yesterday in the heartbreaking part of story where a seven month creative partnership came to abrupt halt….all of the sudden, no more project/animation….
I didn't have the heart to carry on and every time I attempted to put gas in my creative engine, my heart was trailing off behind signaling to go on without it….
So I chose to listen to my heart and to stop.
And then a pandemic hit….
Many months rolled by….
I accepted I didn't have it in me to produce a full animation but maybe I'd release the music anyway….
Cue Corey Strange, he makes everything beautiful.
He created gorgeous cover art for the track:
I set to release the song at the beginning of 2021…
In December, 2020, I saw a cute little animation pop up on social media by none other than Joanne Davis (sometimes I refer to her as Jo), the first animation artist I wanted to work with.
Her art, like it always does, brings a smile to my face.
I had given up on animation but I thought maybe she would be open to repurposing her previous animations so I'd have some promo material for the track release….
She said yes, a year after we initially connected, and paired "Oh My Sweet" font with her art.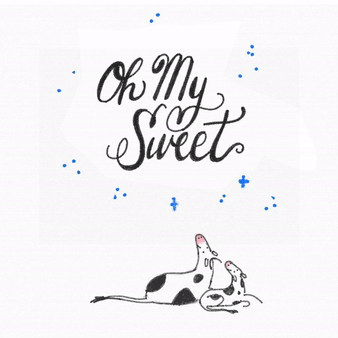 Working with her was easy and delightful…..
One thing led to another….
We jumped in a zoom call…
She was thrilled about the idea of creating a full length, and her excitement carried me beyond my own hesitation, to embark on a full length project together.
*Cue my surprise*
She was a beacon of light in the dark time of this project and I can say with 200% assuredness, that this project would not have seen the light of day without her.
---
"Your enthusiasm has lit up my creative spark about this project again. Thank you!" -Casey
---
January 12th, 2021, we started with style frames!
We explored different background & texture options…
We were getting into some of the more nitty gritty details, if you look closely you'll notice the bird moving at different speeds….
If you're interested in the elusive magic that is animation, check out Jo's behind-the-scenes video of creating "Oh My Sweet":
We have put a lot of love into this for YOU.
We are so excited to share the final version of "Oh My Sweet" tomorrow…
Fun fact, we finished the final version yesterday at 11am. (Deadlines, am i right?!)
This music, this animation, this project is a gift for YOU.
You can expect to be the first one to receive this precious piece of art tomorrow morning.
My hope is that you receive this gift AND pass on this gift to someone else.
While I am normally vehemently against creators giving things away for free, I make an exception for this project.
I will be giving you:
The music to download for free
There is always a good reason to give someone a gift.
See you for the final day of the series tomorrow!
Yours in song,
Casey